Laboratório d'Estórias
Born in 2013, Laboratório d'Estórias, in English, Laboratory of Stories was born with the goal of telling the tales of Portuguese popular culture, reinventing its traditional pieces, creating a bridge between past and present, ancient techniques and modern design.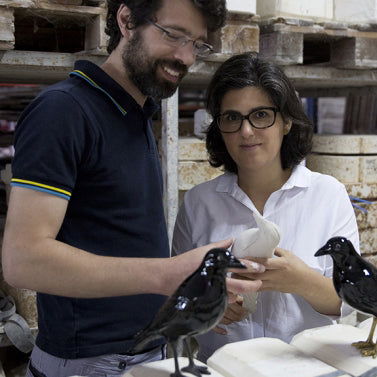 The concept started as an experimental laboratory open to artists inspired by the Portuguese culture.
Using earthenware as material and the traditional techniques of the Caldas da Rainha ceramics, Laboratório d'Estórias found a way of recreating old tales through magnificent pieces of art. Merging reality with myth, tradition with fable, but, above all, giving free rein to our imagination, casting a fresh and irreverent look over dormant icons of Portuguese folk culture.
More than artists, the people at Laboratório d'Estórias want to be storytellers and a vehicle for the old tales that filled our childhood and that mold many aspects of the people's way of living.